Changed a bunch of things in this list since it was super outdated and I stopped using a lot of those tools. *A*
Please feel free to ask any questions on here and I'll do my best to answer.


Paper

*140lb FLUID watercolour paper
*Muse Cubi White Watson paper
*140lb cold pressed WINDSOR & NEWTON watercolour paper (Rough texture)

Watercolour

*GRAHAM/ W&N/ HOLBEIN watercolours
(I like transparent colours in both non-staining and staining.)
*STAEDTLER watercolour pencils (I mainly use #76 (v.d. brown) for lining.
*Dr. Ph. Martin liquid watercolour

Ink

*Dr. Ph. Martin Black Star Matte India ink

Brush

*Round: size 1~4 for drawing details
I use ESCODA (synthetic nylong) but only because it was on sale.
*HAKE brush: Useful for doing washes on large areas.

Masking Fluid

*DEMCO frisket masking fluid.
I don't use it anymore but it is an option.

Nibs

Don't know how to describe them so here is a picture.
*The left one is a HUNT 513EF nib, and the one I use the most.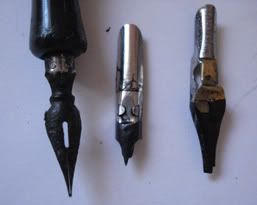 Miscellaneous

*Dropper/ squeeze bottle: Good for making interesting and spontaneous effects on paper.
*Straw: Can make splattering/ branch patterns when blown on a patch of water.